Rupert Ingrams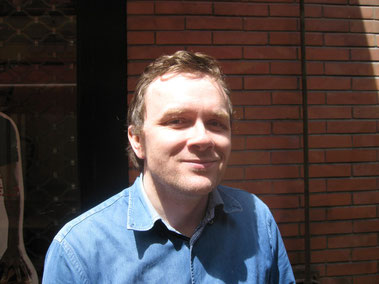 After working with Le Theatre des Ombres in Toulouse for 10 years I have now decided to create my own theatre company :
The Dancing Firefly
Our speciality is shadow work although other related fields of interest include storytelling, music making, mask work and clown.

I have created six shows for children :
The Princess Labam (an Indian Tale)
The Fisherman and His Wife (Brothers Grimm)
The Story of Perseus (Greek Myth)
Ombure The Crocodile (African Tale)
Shadowplay (original creation)
The Two Brothers (Sicilian Tale)
I have performed at The Avignon Festival, The Festival Incanti (Turin, Italy), St Aubin (Toulouse), The Venice Carnival, The Hannover Shadow Festival and more recently at The Pegasus Theatre (Oxford). Before going into puppetry I trained as an actor with Rene Gouzenne (Toulouse), Maurice Sarrazin (Paris) and Philippe Gaulier (London).
I aim to create a world in which children can have the freedom to dream and develop their imagination. Shows are often appreciated by adults as well!